More Logan wines by War Design
From War Design: Logan Wines is a boutique winery based in Mudgee NSW. Since their launch 11 years ago, Logan wines have built a reputation for beautifully crafted wines that occupy a top-end niche position in Australia and key overseas markets including Japan and the UK. The brand's core drinkers could be best described as investigative connoisseurs – those not afraid to try something else in the pursuit of excellence.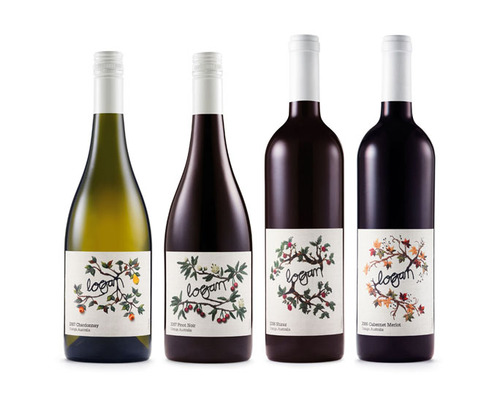 The outcome? The Logan identity reflects the attention to detail, personal and highly crafted approach the Logan's take to everything they do. This is articulated through hand drawn typography, combined with playful copywriting, beautiful imagery and an attention to production and printing quality.Taking the lead from Logan's bold and highly individual approach to winemaking, a concept based upon embroidery was chosen as an ideal metaphor to the care and effort placed into the wine. The concept required the embroidering of beautifully intricate compositions of fruits, berries, leaves and flowers to represent the textures and flavours of each varietal. These stunning representations were then rolled out across all touch points. Thanks must go to Delma - the lovely embroiderer that brought the concept to life, stitch by painstaking stitch. One very talented lady indeed!
You can see the level of craft and care that has gone into producing these labels, and it's the attention to detail that elevates these designs from being simply being beautiful into something meaningful. Just like the wine itself apparently.